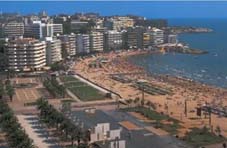 Salou Holiday Apartment
$750.00
• 3 bedrooms • 2.0 bathrooms • 1200 square feet
Salou, NC • 10/06/2011
Salou Costa Dorada Holiday Apartment – 3 bedroom apartment offered for holidays in Salou, Costa Dorada, Spain. The apartment is just 10 minutes from the seafront and harbour of Salou. The apartament has easy access to all local facilities including the local street market, and plenty of bars, cafes and restaurants. This apartament in Salou benefits from its own community pool, it has a terrace with sea views. The apartment has 3 bedrooms, and is ideal for your family holidays in Salou. Prices from 750 pounds per week.
http://www.salou.spain-and-span...
http://www.needahandspanishprop...
Posted by: Needahand
Located: Salou, NC
(No map found for this address)